Sweater weather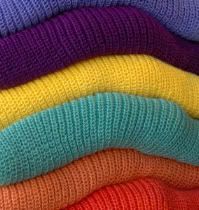 I think my debut and demise as a fashion blogger has occurred in the span of a single day. I'm not nearly up-to-date enough with the current fashion trends, although
I know ugly
when I see it. I can appreciate fashion as artistic expression, but it's hard to take haute couture from the catwalk to the street. Besides, any piece of clothing that has to be taped to your body to stay on is best left to the professionals.
Yesterday's shopping spree was actually a much-belated reunion with
Wild Child
, who has been hiding out in Gävle for the last several months. She was scarf hunting, and I joined her after work (apparently they don't have any scarves in Gävle). I wasn't really intending on buying anything, but I indulged my craving for cosy as the weather is starting to get a bit of a chilly edge. (Speaking of which, I was horrified to learn today that one of my favorite coffee bars has stopped serving gelato; the barista informed me that ice cream season is officially over. I was not pleased.)
While I view the semi-monthly purchase of socks as par for the course (not to be confused with my other
opinions
about socks) as they often need replacing thanks to the
damn sock elves
, in the last year or two I've had to curtail what used to be a rather ferocious appetite for the acquisition for new clothes. Part of it has been growing up a bit and getting my priorities straight, and part of it has been due to sheer
financial necessity
. Minus excessive credit limits, it's rather difficult to buy things when you don't have any money.
But after six months full-time employment, I decided I could afford to add a few new pieces to spruce up my wardrobe. While I did not purchase a pea green polyester sack and call it a dress, I did get two new fall must-haves: sweaters.
The reason I rejoice in the purchase of two new sweaters is that it makes me feel all warm and fuzzy -- not just on the outside, but on the inside. I know it's sacrilegious to worship anything other than the
Midsummer
season, but the autumn is my absolute favorite time of year (operating on the assumption that the rainy season remains at bay for another few weeks). It's crisp and brisk, but it's not cold. During midday, you can still walk around in a short-sleeved shirt, but you need a bit extra to keep warm in the early morning and the evening. And sweaters are only happy to oblige in the pursuit of warmth.
Maybe it's like
Linus and his blanket
in Charlie Brown. We all need a little something to protect us against the cold (literally or metaphorically). Since it's socially unacceptable to carry around a blanket as an adult, a cosy sweater is a great substitute.
I think maybe my fondness to sweaters is similar to my appreciation of the cafes in Sweden that provide blankets so customers can sit outside and enjoy every last ounce of sunshine before it disappears for six months.
Because it's all about the cosy.