Shameless Self-Promotion Part II (OR false modesty part I)
As we've already established, I would
never
,
ever
use this blog for selfish purposes, such as to get votes for
blogging awards
, and certainly would
NEVER
EVER
EVER
use it to meet
men
, such the one who tried to score a date by referring to this a
bimbo blog
. (For those of you who missed the episode, I believe the exact description of my "bimbo blog" was:
a trite, incredibly mundane though seemingly clever sex-in-the-city-wanna-be series of posts
.)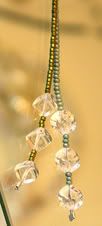 So of course I wouldn't even
consider
using Kommissarie Curiosa as an outlet for financial gain. But I might, on the other hand, use it to help promote a
starving
unknown
struggling young jewelry designer make her break into the Swedish handicrafts market. You might check out
this link
if you want to see some of the other things she does besides blogging.