The Bottoms are Back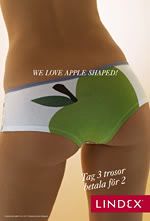 Last winter,
Lindex
launched part two of its "We love bottoms!" campaign:
We love boobs!
.
Stockholm Transport
(SL) deemed the breast-baring advertisements as too risqué, citing that they had "made the assessment that the text may cause upset among certain social groups." (The
text
is upsetting? What about the
picture
?). SL subsequently pulled the ads from the bill boards in the Stockholm subway and bus stops.
Now the bottoms are back, and can once again be ogled by Stockholm subwaygoers. I am reminded of the irony that a relatively tame advertising campaign can cause so much debate in a country where it's perfectly socially acceptable to
bare
your breast whereever and whenever you like, as long as there is a baby attached. I'm sorry: a breast is still a breast, whether or not it's being suckled. I personally find a real breast bared in the middle of a classroom a bit more shocking that the half-clad breasts portrayed in the "We love boobs" campaign.
Aftonbladet
has another take on the subject; the women it interviewed didn't find the portrayal of bottoms offensive
per se
, but they were more upset that the average woman would never fit into the panties in question. My reaction to this is rather aesthetic: I would much rather see a small, waiflike woman modelling the underwear than a slightly overweight middleaged woman bulging out of them. Call me crazy.
It'll be interesting to see who else gets their panties in a knot over "We love bottoms" reborn.