We love boobs! Don't you?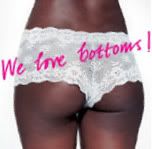 Exiting the subway yesterday, I looked up and saw a very large
Lindex
ad with the words "We love boobs" sprawled across their poster. I had to take a double take to make sure I had actually read what I thought I had. Sure enough, Lindex loves boobs.
It's a follow-up to their "We love bottoms" Summer 2005 underwear campaign, just in time for Valentine's Day. In the last two days, most of the adverts, at least those with the "We love boobs" slogan, have been removed from the Stockholm Subway, because according to SL (Stockholms Local Traffic) press secretary Maria Adolfson, as quoted in
Dagens Media
, "We have made the assessment that the text may cause upset among certain social groups" ("Vi har gjort bedömningen att vi tror att texten kommer att uppröra en del grupper i samhället"). There was also mention of "sexual discrimination."
They are worried that certain "social groups" in Swedish society are going to be upset by the word "boob" in a campaign slogan in a country where it is okay to show bare breasts in the media and co-ed naked sauna is seen as the norm? Maybe this is just my experience, but being uncomfortable with the naked human body is one hang-up that most Swedes do not seem to have.
As silly as I think the campaign is, I find it even more ridiculous that "we love boobs" could be construed as offensive, especially in the capital city of a a country like Sweden. (This kind of debate would seem less out of place in, say, small town USA.) It's an odd use of an English phrase in a Swedish advertising campaign, to be sure (and as Cold Feet said, I would have loved to have sat in on
that
marketing meeting), and I'm not exactly sure to what demographic they are trying to sell their lingerie, because it that it would mainly be men (as opposed to women, who one would surmise to be the main consumers of bras) that would happily nod their head up and down and concur that they too love boobs.
Silly? Yes! Offensive? Absolutely not.