OB = Oh Boy!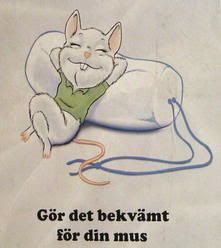 I understand that quite a bit of thought goes into advertising campaigns for feminine hygiene products, as
Mr. Silver Fish
has pondered over in his blog. It seems a bit silly to me that the same Stockholm Local Traffic that would choose to take down the slogan
"We Love Boobs!"
from the subway and bus stops would turn right around and choose to allow an advert with a cartoon mouse reclining against an OB tampon with the phrase, "Make it comfortable for your mouse." As I understand it, "Mus" or "mouse" in Swedish is the equivalent of "pussy" in English. Both words refer both to a kind of furry animal as well as...something distinctly female. Not that this advertising slogan is offensive in any way. It's actually kind of funny. I cracked up when I finally figured out what the "mus" was leaning against. But somehow I doubt that the equivalent, a small kitten curled up on a couch-like tampon, would go over so well in the United States.