May the Hoff Be With You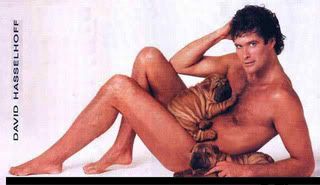 Curiosa (

to Steve, sprawled out on the bed

**)
:
Now when I get back, I want to see your very best David Hasselhoff impression.
Steve:
You're going to be waiting a very, very long time.
Curiosa:
You know, I don't find David Hasselhoff the least bit attractive.
Steve:
The rest of the world agrees with you, unless they're German.
**The size of aforementioned bed is no longer an issue in our relationship, except for the fact that I now have 130 cm to occupy while he has a very generous 30.
**
This
is what the Hoff would be wearing if he lived in the north of Sweden.