Blue and Gul, Le Deux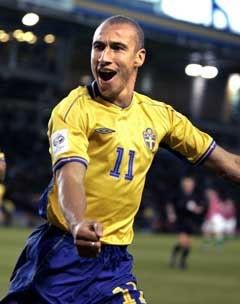 England 2-Sweden 2
Well, last night wasn't as much about oh-so-fine Freddie as it was hottie Henke who took center stage in the final minutes of the game. While not exactly Calvin Klein material, Henke's not so bad himself. For his part, Freddie did get a little naughty, picking up a yellow yard in the 88th minute (haven't I just become the resident football expert).
I still think it's much more fun to watch the people who are watching soccer than it is to actually watch the soccer itself. A fantastic example would be kilt-clad Scots wearing Sweden jerseys, not because they are such bit fans of Freddie and Henke, but because they will root for any country so long as it is
NOT
England. I gotta say, it was a bit interesting watching a match between Sweden and England in an English pub filled with Swedes. Not to mention that the English team has a Swedish coach.