Swedes and their holidays
One thing I love about Sweden is the fact that almost anything can be an excuse for a national holiday. If a holiday falls on a Thursday, then Friday must also become a holiday, because god forbid you have to back to work for ONLY ONE DAY.
And for each holiday, there must be one or two other holidays to go with it. For example, Christmas by itself is not enough. In addition to "Julafton" and "Juldagen," you must have also have "Annandag Jul" (the day after Christmas, known to the Brits as Boxing Day) and "Trettondedag jul" (Jan 6, or 13 days after Christmas).
I got into a discussion about this last night with a Swedish guy at the dinner party I attended. Much to my horror, he told me how they had held a celebration combining Halloween and Thanksgiving. Why their office was celebrating Thanksgiving is another question, and one to which I do not have an answer.
But anyyway, the point is that these two days are entirely INCOMPATIBLE. THERE IS NO CONNECTION.
The combination was bizarre. It consisted of Halloween decorations with Thanksgiving food. This would be like me trying to combine Lucia Day with Midsommar, which are probably two of the most "Swedish" holidays. I'm going to show up for the strawberries and sill wearing a wreath of candles.
To begin with, Swedes have a very strange relationship with Halloween. They can't seem to decide between the American-style holiday held on October 31 and their own "Alla Helgons dag" (All Saints Day) on the following Saturday.
There is a collective crisis: Which one should we dress up for? When do we go trick or treating? And the pumpkins, what do we do with the god damned pumpkins?
I think the pumpkin can be blamed for the confusion between Halloween and Thanksgiving. Let me simplify it for you: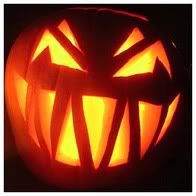 This
is a Jack O' Latern (left). You carve it for HALLOWEEN.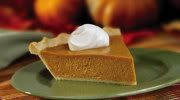 This
is a slice of pumpkin pie (right). You eat it for dessert on THANKSGIVING. With whipped cream. After the turkey, the sweet potatos, the green beans, the mashed potatos, and the cranberry sauce.
To be honest, I really don't care what you do with Halloween, but Thanksgiving is sacred. It occurs on the fourth thursday of November. Not the second, not the fifth, not the first Saturday, the FOURTH THURSDAY. It's about giving thanks and being with family and friends. And you know, all the stuff about the Pilgrims and the Indians.
After all of this lecture, if you really feel the need to combine Thanksgiving and Halloween, feel free to dress up like a turkey on Halloween, but please continue to celebrate Thanksgivng on THE FOURTH Thursday of November. If you don't, I'm going to take the biggest herring I can find and beat you with it.