Have you been naughty?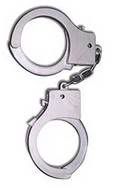 Conversations with my friend the Swedish-wild-child-party-girl-turned-kärleksinvandrare-till-Norrland are ALWAYS amusing, and occasionally hilarious.
Last night the topic of hand cuffs came up in our telephone conversation. Please don't ask me to explain why.
Curiosa
: Have you ever used handcuffs? The idea is intriguing, but I'm trying to imagine how that would work in practice. It seems like it would be more for a laugh than anything else.
Wild Child
: Well, I've never used handcuffs, but I have used rope.
Curiosa
: How did that work out?
Wild Child
: Well, he couldn't tie a proper knot, so it ended up being rather silly. I got away.
Curiosa
: Isn't the idea really to get
off
, rather than get
away
?
Wild Child
: Mmmm, yes, ideally. You know, if you really want to talk to someone about this, you should talk to Annika. She's got all kinds of toys.
Curiosa
(thinking about Annika's straight-laced ex-boyfriend Will and giggling at the image): She
tied up
Will?
Wild Child
: Well, come on. Will is NOT the kind of guy you tie up and spank.
Curiosa
: Is the Norrlänning there right now?
Wild Child
: No, he's in the other room.
I think
.
Curiosa
: Have you tied him up?
Wild Child
: No, not yet, but we're working on it.
Curiosa
: I'm thinking about my blog. How would a Swedish guy react if I brought out the handcuffs? Would it scare the be-jesus out of him?
Wild Child
: Nah, I think he'd be very, very happy.